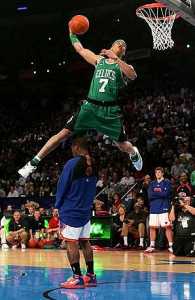 First, I want to discuss the biggest misconception, WHAT EXACTLY IS A VERTICAL JUMP? We hear people's opinions about what a vertical is…we've seen the NFL combine on ESPN and we know how the NFL tests it (1-step vertical). But when it comes to basketball, what is a real vertical? We all know building jumping ability and vertical leap is an important part of basketball training, so let's take a minute to clear up some misconceptions.
The first step to finding a vertical is to find a player's max standing reach. A player stands against a wall or under a vertical jump testing machine and extends their arm reaching up as far as possible with one arm (with feet flat); this is the player's standing reach. Next, you measure the jump…
The 2 types of vertical jumps
1. No Step Vert – The No Step Vert is exactly what it sounds like. The player stands with their feet planted, they then jump straight up and reach up as high as possible touching a wall, target, or the spinning tabs of a vertical jump testing machine. The highest point touched is measured. To get the vertical jump height, simply subtract the max standing reach from the highest point touched.
2. Max Vert – This is basically the same, except in this test, the player gets to take a short run-up before jumping. Again, the highest point touched is measured. To get the vertical jump height, simply subtract the max standing reach from the highest point touched.
We have all heard the claims of 58" verticals, 52" verticals, and programs that give you an extra 12" of vertical in a month. Let's look at a few facts from the pre-draft NBA combine that takes place each year.
The highest "no-step" vertical measured since 1998 was completed by Nick Young in 2007, his jump was 39.5"
The highest "max vert" jump since '98 was Kenny Gregory's 45.5" jump in 2001, 2nd best belongs to Nate Robinson at 43.5
Here is how a few of the current big leapers tested:
Dwayne Wade comes in at 31.5" & 35" in the no step & max
Blake Griffin measured at 32" & 35.5" (no step & max)
Carmello Anthony jumped 30.5" & 33.5" (no step & max)
Derrick Rose = 34.5" & 40" (no step & max)
Russell Westbrook = 30" & 36.5" (no step & max)
Seeing these actual results of some REAL NBA high-flyers clearly shows that all those vertical jump guides are a little bit bogus. The problem is, at some point, people decided that selling vertical jump tools and programs was a great way to make money. There were special shoes, shoe attachments, and programs that flooded the internet…all promising HUGE gains and showing phony testimonials of clients with 48" or 52" verticals. Everyone bought them in bunches! But what were the results? They weren't very good. Some athletes ended up with repetitive stress injuries from endless repetitive high impact exercises at extremely high volume. Some had temporary gains that disappeared. Some got bored with the repetitive day-in day-out grind and quit the programs. Some saw no gains.
The truth is, just like everything else worth doing or having, there is no magic trick. Building explosiveness and jumping ability takes a mix of: poweful and explosive lifts, flexibility & mobility work, plyometrics, and jumping form/technique work. In one study of Olympic athletes, the weightlifters actually had the highest vertical jump of any athletes in the Games. If you are looking to be a great basketball player, what you really need is a well-balanced strength and conditioning program. If you want to put a little emphasis on jumping, you can work with your trainer to build your program with a focus on explosiveness.
Our top 5 exercises for vertical jump improvement:
Dumbbell Split squats
Max-Effort box jumps
Deadlifts
Weighted lunge switch steps
No momentum max jumps
What is your vertical? What do you hope to get your vertical up to? Leave your answers in the comments!