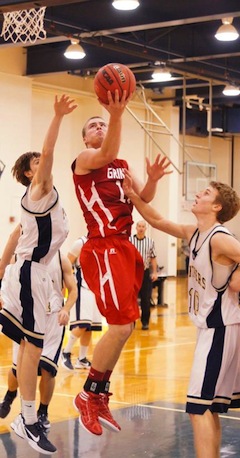 Many basketball players have heard of "The System" employed by Grinnell College. Grinnell uses a "run and gun" style of play that might make the old Suns team jealous. Grinnell looks to shoot in the first 10 seconds of the shoot clock, they full-court press the entire game, they attempt to cause as many turnovers as possible, they crash the offensive boards hard, and they launch a TON of three pointers. One other unique thing they add in…substitute an entire new 5 man squad every minute or so. Almost every guy on their team logs minutes every game. The starters only play a little bit more than the bench guys.
Some people praise them, some people think their system is stupid. Critics say, they don't learn how to play defense, and they can only win so many games in a row, which is bad for the NCAA tournament setting (the D3 tourney is very similar to D1 tourney) so they won't ever win it all.
Recently a player from Grinnell College dropped 89 points, breaking the record of 77 points (held by a former Grinnell player). He was 27/55 from the field, 15/33 from 3, and 20/22 from the line.
I have mixed thoughts on this. On one hand, 89 points is awesome. The kid can clearly shoot the ball, and is a talented scorer. 89 points is 89 points regardless of the level (D3, D1, High School, etc..). A few things to think about…could most talented scorers drop 89 if they shot 55 shots and got to the line 22 times? His FG% and 3PT% were respectable, but not legendary. 45% from 3…aren't there a bunch of players out there that could get that if they played that style and had teammates looking for them? Maybe, maybe not. Should you still be taking a shot every 10 seconds if you are up 30, 40, 50 points?
Beyond this game iteslf…how would you alter your basketball training to reflect Grinnells style of play? Short bursts of energy over short time spans…your training shifts to align more closely to that of a sprinter or a football player. You obviously need to also be an excellent shooter to play in the Grinnell system…so a lot of hours putting up shots.
Overall, my hat is off to Griffin Lentsch. A job well done, I am impressed. What do you think?
What do you think about Grinnell's "System"? Could you get 89 points? Should they have left him in the game? Would you enjoy switching up your basketball training to fit in with Grinnell? What are the benefits and problems with playing at a school like Grinnell? Leave comments with your thoughts…
Check out ESPN's article on Griffin HERE