There is a growing debate in America as to whether AAU basketball is best for youth basketball players.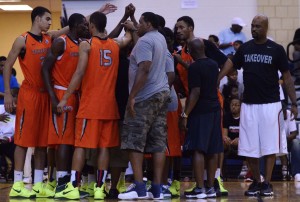 The case for AAU Basketball
A young player gets the opportunity to play 20-60 games in a short season against some of the best players in their age group.
As players get older they get the opportunity to be seen by college coaches and even agents in some instances!
The large stage exposes you to what it takes to play at the next level and where a player stacks up for their age group.
Players develop in-game abilities, get a lot of crunch time experience, and gain some valuable situational basketball experiences…these all ultimately enhance a players basketball IQ
The case against AAU Basketball
The game situations experienced in AAU are much different than those in real games.  The style of play is dominated by one-on-one situations and player's trying to perform (often selfishly) to attract attention form coaches and scouts.
AAU doesn't allow for much practice time.  Games are plentiful and practices are limited.  For the most part these are unscripted pick-up games.  This also cuts down time a player has to work on their basketball skills and strength training.
It can change a player's view on winning & losing.  If you lose, you likely have another game a few hours later…a few days at most.  Winning is devalued and losing seems to lose its sting.
It can be a bad idea for big men that play with their back to the basket.  The style of play is free flowing and fast paced…there are few post touches for talented big men.
Like I mentioned at the start, the debate has been going on for some time.  Check out this great article by Jason King for some insights from Tom Izzo, Bill Self, and some other great college basketball minds on the state of AAU.
So what is the right thing for you (or your son/daughter) to do?  It is a tough question and there is no universal answer.  Every player has different needs and different situations (AAU basketball can also be expensive, which should be taken into consideration).  Some players need more in-game experience to learn to develop a "feel" for the game.  Some players have the tools and athletic abilities but need to hone their jump shot, develop better footwork, and tighten up their handle with some basketball skill training.  It is important to be able to assess your abilities (or your son/daughters) accurately to know what they really need.
College scouts want the best players and they do everything they can to find those players. These scouts are going to continue to look in the high school ranks and at AAU tournaments.  If you work hard and you display your skills over a full high school season, someone will see it and you will get attention.  There are also some outstanding recruiting services out there that help get your name out there (be careful here as there are also some rip-off recruiting services as well).  In the end, hard work pays off.  Always keep working on your basketball skills, your physical abilities, and never forget the mental part of the game.
What are your thoughts on AAU basketball?  Have you ever considered skipping a season to refine your game?  Leave your thoughts and experiences in the comments…
photo credits – flickr: Joseph Glorioso Photography