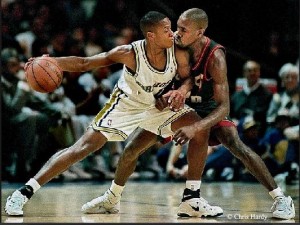 1 on 1 is a classic basketball match-up. Just about everyone knows how to play 1 on 1, but not many people realize how effective it can be as a tool to get better. There are countless variations and wrinkles that can be added into a game of 1 on 1 that can greatly improve a player's game. By changing the rules of the game, you can focus on certain skills and abilities…going to the basket, finishing, post play, shooting off the dribble, effectively utilizing the dribble, and more. Next time you play, switch the game up a little bit, and work on your weaknesses.
Here are a few great examples of how you can change 1 on 1 to get better…
Off the dribble
1 on 1 is played between two players, but the rules are changed so that each player receives 1, 2, or 3 dribbles (depending on the rules you set). If the player takes more dribble than allowed, it is a turnover, and the other player gets the ball. By only having 2 dribbles, (assuming that is what you select) the player's are forced to make sure their dribbles are used efficiently. They are forced to work ball fakes, shot fakes, and jab-steps to ensure they can get a good look.
Paint shots
1 on 1 is played, but all shots must be taken from inside the paint. This drill is great for working on finishing moves and inside scoring. This can also be good for learning how to guard a player not effective at outside shooting, but a great scorer inside. Do you guard them outside so they don't get a head of steam toward the basket? Do you sag off and pick them up when they get into their range? This helps player's learn to react to the individual they are playing against.
Attack the paint
This drill is done with one player under the basket (defender) and one coming in from the 3 point line from various angles (offensive player). The offensive player tries to score, but most attempt a lay-up or a very close shot right at the rim. The defender tries to strip them, block them, take a charge, or any other (non-fouling) tactic to stop them from scoring. This is great for teaching big men not to foul in a game, it is great for teaching offensive players to finish, as well as many other benefits for both the offensive player (avoiding charges, not getting your shot blocked, finishing at the rim, body control, etc.) and the defensive player (not fouling, shot blocking practice, learning to take a charge, reading offensive players, body control, etc.).
Post play
This drill is done using strictly post moves. The players start the possession 5-10 feet from the hoop with their back to the basket, and they have to make a post move of some kind and attempt to score. This is great for refining post moves, as well as post defense.
1 on 1 on 1
This is played with 3 players. Two players go at each other 1 on 1, if the player scores, the 3rd player comes on for defense, and the 2nd player goes off. You do not get to move to offense until you get a stop, and the offensive player continues on offense until someone stops him from scoring. You can also use this game with any of the 1 on 1 variation mentioned above (off-the dribble, paint shots, etc).