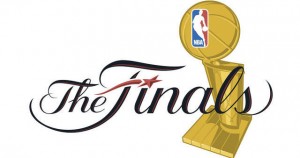 Westbrook is never going to be a pure point guard, but I think that is okay. There are two things I think he definitely needs to get better at (which don't require him to completely change his game) …getting the ball up the sideline with a pass to open wing threats (Durant & Harden) vs. dribbling to the top of the key AND getting a sense of what he needs to do to get his guys going (again, Durant & Harden). I don't know if anyone plays harder than Westbrook…he gives an Iverson-esque effort every night. He is fearless, he will try to dunk on any/every one, and he will not leave anything in the tank (eh…maybe he does, it seems like his tank might not ever run out).
– Lebron has earned the title as the (current) best player in the NBA.  He does whatever he wants (except for hitting 18"+ jump shots consistently), he rebounds better than anyone else on the court regardless of size (the only reason he doesn't have more is because he often guards perimeter players and has to get back on D instead of crashing the offensive glass…if he was a PF/C he would probably be 12-15 RPG guy over a whole season). In this series he is getting away with a lot on defense, he is very physical and the officials have really let him get away with it for the most part. If you think about it though, he is a few missed calls/Thunder shots away from being the fall guy again, he took a bad 3 at the end of game 2, he missed a foul shot and a 15 footer late in game 3, and had the game been closer when he went out with cramps…he could have been the "bad guy" again. Overall he has been fantastic, but his late game decision making still doesn't seem to be there and he is shooting under 40% from the field in 4th quarters.  Just like all other sports…it truly is a game of inches.
– When did Dwayne Wade become arrogant and condescending? I liked him better when he was an underdog who played hard and didn't say much. He often has a look on his face like is too good for what is going on.  He looks at refs like he would physically hurt them if there wasn't a law/rule against it.  I think he will return to normal DWade if they win a championship.  This much media pressure and scrutiny is enough to change just about anyone.  Oh ya, he is also potentially the best 6'4" shot blocker of all time.
– James Harden is SHOOK…They need to do a Dateline special on his disappearance. I hope he turns the corner, but…yikes. He missed a few open 3's in the 2nd half, he was TERRIFIED to shoot that mid-range jumper toward the end of the 4th quarter of game 4, he didn't dunk a fast break lay-up that he should have (which he missed), he's had some really bad turnovers, and he just isn't himself.  I hope he turns it around, he is a good player with a good approach to the game.  For those of you who don't think you need to be super strong mentally to play this game, just watch how he is playing when his confidence is off…
– The Thunder are one of the worst box-out teams of all time. NO ONE (except Nick Collison) boxes out. The look like a bad high school team on the defensive boards. No one goes after the ball, and one Heat player gets a rebound in the middle of 4 Thunder players. As a coach I would rather have 5 guys run into each other trying to get the ball than have no one go after it.
– Right now Shane Battier should be a strong candidate for Finals MVP. He does so many little things right during the game that go unnoticed. He very rarely makes mistakes. He deflects balls, takes charges, blocks shots, always gets a hand up, boxes out, rebounds, makes the extra pass, tips the ball to teammates, knows the time/score/situation, it's awesome to watch…a coach's dream. Add to that the 65% 3-point shooting and he is impossible to not have on the court. Every high school and college player should watch and re-watch these games with a spotlight on Battier.
– The Thunder have a Battier, his name is Nick Collison. He is slightly bigger, slightly slower Battier that isn't quite as good of a shooter. He does everything that Battier does and just has an awesome positive impact while he is in. As long match-up problems allow him to be in the game, he should play 30+ minutes a game.
– The Thunder's half-court offense is awful with their start 5 in the game. In the open court it is fine, but they run no sets when those 5 are in. Largely, this is due to having 3 guys (Thabo, Perk, and Ibaka) that are extremely limited offensive threats. I love the way Scott Brooks stands by his players, but they picked up Perk to battle Bynum/Gasol, Boozer/Noah, and Dwight Howard. He isn't a great fit for this series. That said, Perkins hasn't been as bad as everyone says. He is their best offensive rebounder, and those 2nd chances he generates are very important.
– Durant has been very good (probably not great, but very good). I think he has performed as expected. I think people want him to shoot a little more in the 4th quarter. Maybe so. He definitely needs to get stronger. His goal should be a Kevin Garnet-like physique.  Every grade school, high school, and college player should also watch Durant's demeanor on the court, with his teammates, and with the media.  He is respectful, he doesn't complain about most calls, he stays calm and controls his emotions, he listens to his coach, and he loves/respects his teammates.  You should all imitate this.
– The officiating seems to favor Miami so far. A lot of 50-50 calls have gone their way. They have had 9 less fouls called on them in their 4 wins. Foul trouble has limited minutes for Durant and Harden. Westbrook goes to the basket as hard as anyone, but does not get the calls like Wade gets. How did Westbrook only shoot 3 free throws in game 4? Seriously? The refs aren't the only thing that has put the Heat up 3-1, but it certainly hasn't hurt. The message is clear, you can't touch Wade or Lebron on a drive.
– I REALLY dislike the unwritten rule that if a defender leaves his feet on a shot fake, regardless if he is contorting his body to get as far away from the offensive player as possible, all the offensive player has to do is lower their shoulder and barrel into the defender and they get to shoot free throws. It is awful. It should be an offensive foul. What a dumb call.
– You beat the heat by defending in transition, making Wade/Lebron shoot jump shots, and not letting Miller/Battier shoot open jumpers. Easier said than done, because Miami is one of the best teams of all time in transition, but many times this series it has been Thunder laziness in not getting back.  I think the Thunder shoudl be using a zone more often.  This keeps the best shot blocker in the NBA in the paint blocking shots instead of getting spaced out of the paint (because Bosh forces him to guard on the perimeter).  This would also force the Heat to shoot more outside shots.
– Ibaka wants to block everything, Derek Fisher's decision to drive to the hoop on 2 Heat players on that Lebron turnover in the 4th quarter was potentially the worst decision of the game.
– The foul by Westbrook wasn't the smartest move, but neither was Harden's foul in game 3. Also, If harden just let go of the ball rather than tying up Battier, the shot clock would have expired (it was at 0.8). Even if Westbrook doesn't foul, the Heat need to miss a shot, the Thunder needed to hit a 3, then the Thunder would have to stop the heat.
What do you think about the finals so far?  What are you feelings?  What do you like/dislike?  What sticks out to you?  Leave comments below…