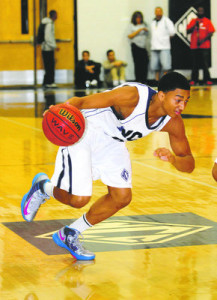 Elijah Weems – Class of 2014
"I would like to tell anyone looking for a basketball trainer that Joe with "The World of Hoops" provides the best basketball training there is. When my son first went to him last summer he played the power forward position (at about 6'3″). (Knowing Elijah would have to play the point guard or two guard in college…Eric asked for my help) Elijah's dribbling skills were very limited. After just 6 weeks during the summer, 3 to 4 days per week….my son Elijah learned a whole new position. Since Joe played point guard at a high level and he knows the position inside and out, he knew the skills Elijah would need. This past basketball season my son moved to the shooting guard where he had to have the ball in his hand a great deal, break full court presses,and deal with a lot of pressure. He averaged 13.5 points and 5 assists per game on a team that features five NCAA D1 players that have offers on the table to major and mid-major colleges. The team lost in the Georgia elite 8 in were Elijah had to guard the number 15th ranked player in the country for the class of 2014. Elijah had his picture in the paper 5 times and was featured in two articles.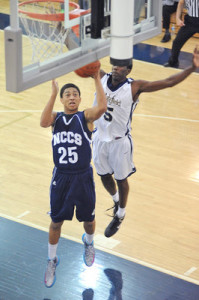 He also received player of the week during the second round of the Georgia Playoffs by single-handily scored 13 points in 5 minutes. My son will be working out with Joe again this summer and Elijah's goal is to play at Ohio State. Thanks again Joe, see you soon." Eric, Elijah's father.
Elijah is a very talented and smart kid with a HUGE future ahead of him. He is talented and strong guard with a terrific work ether. He is also an outstanding football player. Check out the links below for some more info on his success and one terrific shot that was slated to be ESPN's top plays!
Elijah – playoffs (Marietta Daily Journal)
Near double-double (Marietta Daily Journal)
Rising Junior hits buzzer beater of the year!
WOH Basketball Training Off Season Workouts