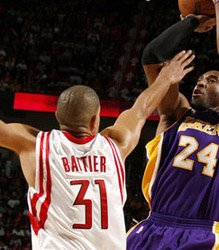 With the movie "Moneyball" recently coming out, Michael Lewis is a relatively well known guy these days.  He is best-known in the sports world for his book "Moneyball" in which he dissects Billy Beane's strategy for finding undervalued and underappreciated players using advanced statistical analysis and player evaluation.  Billy took this and strategy and built a very successful Oakland A's team in the early part of this decade.  In a 2009 New York Times article, Lewis examines how the Houston Rockets and their general manager Daryl Morey are using comparable methods and advanced statistics to build a better basketball team.  This NYT article centers on Morey as well as a player that Morey & Lewis tag as the "No-Stats All Star", Shane Battier.  Morey has become a stats guru in the professional sports ranks, and has run pretty successful Rockets teams (despite some tough injuries).  Battier has combined his high level intelligence, with his innate instinct to do the "little things" on the basketball court, along with Morey's advanced statistics to become an extremely valuable player.  Morey and his team provide mountains of statistical information to Battier, which Battier digests and figures out how best to implement on the court.  Sometimes this means how to better defend Kobe Bryant, and sometimes it means how best to make sure his team wins that night's rebounding battle.
This article is a long one, but read it all the way through.  Whether you hate Battier or Love him, this article is well worth the time.  It may also mean that Battier could be the missing piece the Miami Heat need to push them toward a title.   Do you go to the lengths that Morey and Battier do to get better?  Are you willing to take the extra step?  Do you watch film of yourself? Of your opponents? Do you keep notes on your opponents?  Do you track your workouts?  Do you know your (or your team's) statistical strengths and weaknesses?  Does your team track the "right stats?
Leave your thoughts in the comments secion…
*Be on the lookout for some more articles coming soon on how you can use advanced statistics to see how you or your team can improve or be measured.