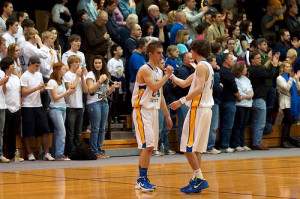 Are you happy when someone else on your team has a big game or are you upset that you didn't get as many points as you wanted?
Do you do what is best for the team or for you?
Do you gamble for steals and leave your teammates in a 5-on-4 situation or are you disciplined on defense?
Do you box out every time or do you leak out waiting to play offense?
Do you step in and take charges or commit lazy fouls?
Do you push your teammates in practice or do you just half-ass drills?
Do you get a good night's sleep the night before the game or do you go out or stay up late?
Be a great basketball teammate.  Make the right choices.  Win.
photo credit: gus_estrella