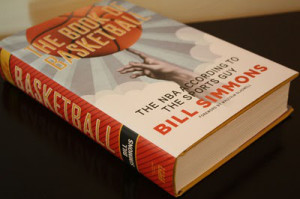 This week I wanted to share with all the WOH readers' one of the most perfect books out there for reading on a basketball road trip, "The Book of Basketball" by Bill Simmons.  For those of you familiar with Bill Simmons, he likes to write long articles, almost as if he's just talking to you.  His articles are long and filled with references to "The Wire", "Shawshank Redemption" and popular TV shows.  Some people like him, some hate him.  Say what you want about Bill Simmons, but the guy KNOWS basketball.  In this book, he has done an excellent job of capturing basketball history, explaining why some players are overrated and some are underrated, explaining why some teams are overrated and some are underrated, why some seasons have better stats than others, how you can compare LeBron to Magic and Kobe to Dr. J, who the REAL MVPs are, remind you of how great some players were in there prime, as well as completely redesigning the Hall of Fame.
This is a must read for every basketball fan.  Bill has some awesome basketball stories from his wide network of friends, players he knows, and more.  My only real complaints would be:  Bill's incredible bias towards the Boston Celtics (teams and players).  This is a recurring theme throughout the whole book, but it doesn't take away from the entertainment of this good read.
Be sure to read the chapter on Allen Iverson on your way to a big game…very motivating.
p.s. for those who have read the book, be sure to check out Bill's updates and "unpublished pages"