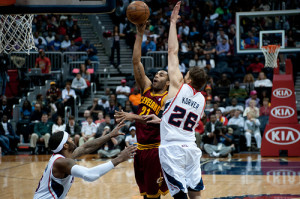 The Jump Hook is more than just a post move. It can be used by post players as a post-up move and it can be used by guards and smaller players to try to finish over bigger defenders.  It is a tool that all players need to develop.  It is a great move against bigger guys or smaller guys for any player…
The body is between the ball and the defender, this makes it harder for a defender to block the shot
Your off arm is free to provide additional protection
The arm reaches full overhead extension, giving you a higher release point than a normal shot.
Watch this video to learn the step-by-step process of shooting the jump hook:
Here are the details
Start by turning your shoulders so that you are sideways to the hoop (your shoulders should line up with the rim, your inside shoulder being closer. Be sure to be in a balanced, athletic position.
Move the ball to your outside shoulder where it is shielded from the defense (grip the ball across the seams just like you would for a jump shot)
Jump in the air, rising to a high release point (away from the defender). Use the off-hand to shield the ball from the defender.
Shoot the ball with a motion similar to a jump shot (up off the finger tips, ending with index finger)
Remember, this isn't just for big men, this is an extremely valuable finishing move for all basketball players!
photo credit: Basketball Schedule