Basketball players and coaches should watch every game with a critical eye, and every game watched should have some lessons learned.  The 2013 NBA Finals series between the Miami Heat and the San Antonio Spurs had some fantastic lessons.  The lessons include improving your basketball IQ, how to focus your basketball training, how to gain respect of fans and opponents, and a few things every player/coach should focus on.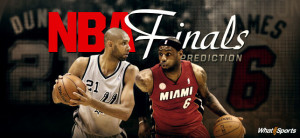 Don't leave your feet
Manu ginobili had 12 turnovers in the last two games.  A large percentage of these turnovers came from Manu making some sort of move to the basket or off a screen and role, getting stuck, then making an errant pass.  Any experienced guard will tell you that they had a coach somewhere along the way that taught them the lesson, "don't leave your feet".  Keep your dribble or stop and pivot your way out of a jam, simply jumping usually leaves you stuck and more often than not results in a turnover.
Learn to guard ball screens, learn to execute ball screens
The NBA game is largely a ball screen league at this point.  It is vital to be able to guard the pick and roll and to execute the pick and roll.  Spend the time to learn how to use a ball screen effectively and learn how to defend them as well.  It will pay massive dividends.
Understand how to guard shooters
The Miami heat closes down on shooters better than any team I have seen.  It may have taken them a few games, but they finally decided to lock up Danny Green and Gary Neal in games 6 and 7.  When the ball was swung to Green or Neal, the defense closed on them HARD.  They forced those two to try to beat them off the dribble, and it worked.  You can't give good shooters space.  They will kill you.  Take a lesson from that defensive effort.
Work on your weaknesses in your basketball training.
The one "soft" spot of LeBron's game has always been his shooting.  He knows this, and has worked tirelessly on improving that aspect of his game.  When the opponent stepped back and dared him to shoot, he did it.  Find your weakness, and work on it.
Be humble and act with class…on and off the court
Did you notice how nobody bad mouthed Tim Duncan or the Spurs?  Did you notice how everybody wanted them to win?  Did you see the outpouring of respect for them?  The reason for this is because for years and years the Duncan, Pop, and the Spurs have been humble, respectful, philanthropic, and acted with class…win or lose.  Did Duncan and Popovich storm off to the locker room after the loss?  No, they gave extremely heartfelt and sincere congratulations to Lebron and the Heat.
Confidence and positive thinking are dangerous weapons
Did anyone notice what Tony Parker did to Norris Cole?  For the first couple games in the series Spoelstra and the announcers both talked about how Norris Cole was a great defender.  They mentioned how he had been a capable defender from the first day he got into the league.  For some reason Parker decided in his head that he was just going to bully Norris Cole and he started to blow by him, body him, and abuse him.  Is Parker stronger or more athletic than Cole?  Probably not.  But Parker was confident and decided to just go after him.  This in turn, rattled Cole, stealing his confidence and landing him on the bench for the rest of the series.
Accept your role
Every player has a different role on a team, and almost every game pivots on a big performance by a role player.  Often it is shooting (see the next item in this list) by a role player, Battier this year and Mike Miller last year.  But it can be anything.  Diaw got a ton of credit for his defense on LeBron.  Kawhi Leonard drew praise for his D on LeBron and his rebounding.  The Birdman brings fantastic energy, offensive rebounds, blocked shots, and strong finishing around the hoop.  Battier does all the little things.  The list goes on and on.  Yes LeBron took over game 7, but in that game here are the +/- stats for the role players….Miami's bench was: +12, +11, +5, -6.  Whereas the Spurs's bench was: -18, -7, -6.  You may not always be the best player on the team, but embrace your role and you will give your team the best shot at winning.
LEARN HOW TO SHOOT!
Game 7 of the 2013 NBA finals was largely decided by LeBron's shooting.  He started hitting 3s and his mid-range game was LOCKED in.  You can make the case that missed foul shots cost the Spurs Game 6.  One of the biggest reasons the Heat won that Game 6 was because of made 3s.  One by LeBron and the bigger one by Ray Allen. In the '12 NBA finals Mike Miller was 7 out of 8 from the three point line.  In the '13 finals Shane Battier was 6 for 8 from the three point line.  Several players on the floor have made a living almost exclusively off of shooting (Danny Green, Ray Allen, Mike Miller, Gary Neal).  Spend the time to learn to shoot.  Do it right.  Get help if you aren't sure how.
photo credit: whatifsports